William G. Conner Receives Bedell Award
2/5/2013

/

Location: DHAHRAN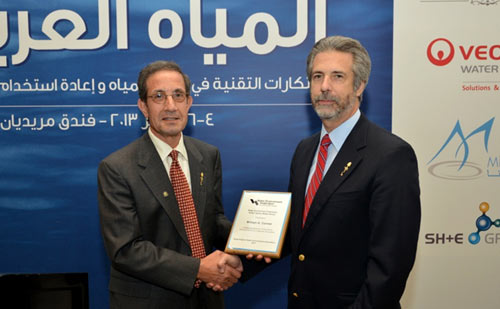 Dr. Mohamed Dahab, former president of the Water Environment Federation, presented the 2012 Arthur Sydney Bedell Award to William G. Conner, Engineering Consultant, Environmental Protection Department. Conner is the second person to receive this award in the Kingdom.
The award is granted by the Water Environment Federation (WEF), a global nonprofit association that trains and educates thousands of professionals in the field of water treatment. The Bedell Award was established to acknowledge the extraordinary contribution of members to a Water Environment Federation member association, such as the Saudi Arabian Water Environment Association (SAWEA). SAWEA is a Saudi Aramco professional group of water quality engineers and scientists supported by the Environmental Protection Department and the Utilities Department.
For his outstanding contributions to water conservation and innovative treatment technologies, Conner, who is one of the founding members of SAWEA, received the award.
Conner played a key role in organizing many of SAWEA's major conferences and workshops, the most recent one being the "Water Arabia" conference in Khobar, which attracted more than 900 participants from 20 countries, 28 exhibits and numerous technical presentations. The "Water Arabia" event is regarded as one of the best water conferences to be held in the region.